Buy 43″ Sony Smart Ultra HD 4K Android LED TV now from your number one online shopping place, Aliscotech.
43″ Sony Smart Ultra HD 4K Android LED TV brings you a world of beautiful colors and unbelievable. From the very first moment you bring this TV into your home and turn it on, you will fall in love with everything it has to offer.
The 43-inch display is large enough to captivate you and make you feel and if you experiencing everything you watch in real life and will make you feel as if you are sitting in the middle of the action. It also renders an Ultra HD resolution of 3840 x 2160 pixels. With clarity, vividness, and unparalleled image quality, the Sony 43 Inch 4K Ultra HD HDR Android TV with 4K Ultra HD X-Reality PRO will elevate your viewing experience, no matter what you are looking at.
You can now watch your favorite movies, sports, TV shows, or play an action-filled game without a single worry. Today, your watching experience is going to get the upgrade of a lifetime thanks to the various HDMI and USB ports which give you the chance to see all kinds of content in HD. From saved videos and images to Blu-Ray discs and video games.
With the Edge LED backlight and 50/ 60Hz frequency response, you will be able to enjoy unmatched clarity and lag-free performance. Stunning picture quality meets a seamlessly modern design with the black Sony 43 Inch 4K Ultra HD HDR Android TV with 4K Ultra HD X-Reality PRO with a 33.2 kg weight and 1674 x 959 x 66 mm dimensions.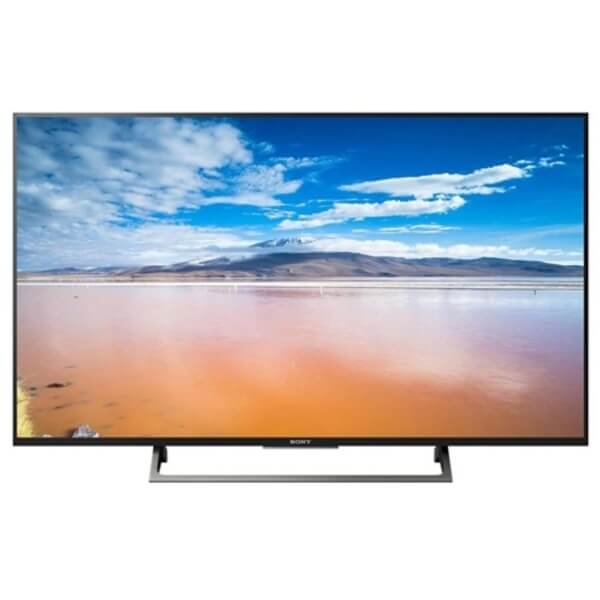 You can set this TV up in whichever room you want, and whichever way you feel would be best – mounted on the wall, or sitting on the tabletop with a stand. Whichever way you choose, prepare to fall in love at first sight!
Sony Smart Ultra HD 4K Android LED brings you CINEMATIC EXPERIENCE
The Sony 43-inch 4K Ultra HD HDR Android TV offers smooth and sharp details with the Motionflow XR. This technology creates extra frames between original ones to give you a truly cinematic experience.
Explore extraordinary clarity thanks to the most powerful 4K picture processing. Each scene is individually analyzed and matched with a special image database that addresses various textures, contrasts, and colors.
Whether you are watching TV broadcasts. Blu-ray Discs, DVDs, or HD online streaming. You will enjoy 4K images with unbelievable clarity and captivating contrasts.
DESIGNED FOR YOUR ATTENTION
Thanks to the super-slim design, your living room's décor will get the upgrade of a lifetime. The clever cable management keeps all cables hiding and out of view.
The Slim Backlight Drive ensures you get astounding image quality that will make you fall in love with watching TV.
The Ultra HD Android TV comes with an ultra-thin flush finish with no bezels for a nearly invisible edge.
Connect your Google Cast to your TV and enjoy your favorite, apps like YouTube from your smartphone.
SMART ENOUGH TO LISTEN TO YOU
Smart TVs just got smarter! You can now connect your Sony 43-inch to your smartphone and view any content you want.
Activate the voice search feature and enjoy vocal Google search. You can get recommendations for things to watch by simply asking for them. Ask for "romantic comedies" or "dramatic movies" and you will have options to choose from.
Thanks to Google Play, you will be able to explore a wide selection of movies, TV shows, games, and so much more.
make your order today and have it delivered to your place within 24 hours